BIG NEWS!!!!      NEW EVENT!!!! 
First Fun Oktober-Fest in our Community to benefit Sexual Assault Services of Northwest New Mexico.
Call 505-325-2805 to buy your ticket. $60 single/$100 couples package
To buy Tickets Online Click HERE
(dinner, one free drink, souvenir mug, one prize drawing ticket, games, dancing, live band). Lots of fun. Amazing drawing prizes. Beer, wine, food, dancing. Have to have ticket to get in. Call for VIP tickets options (only 20 available). In partnership with the Farmington Rotary Club 
Hurry! They are selling FAST!!!!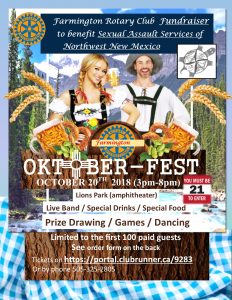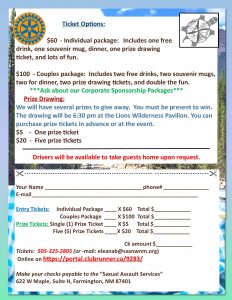 Since 2004, Sexual Assault Services of Northwest Mexico has been helping residents in San Juan, Rio Arriba, and McKinley Counties overcome sexual assault situations. We provide Sexual Assault Nurse Exams (SANE – medical/forensic exams), rape crisis advocacy, and counseling. Our staff also works in the community to prevent sexual assault through multi-session, education-based programs with specific groups. This education includes awareness programs, including 'Safe Dates', a healthy relationship curriculum, geared for high school students.
SAS will be will you throughout every step of your recovery process, from an exam to counseling, and facilitation of legal services to pursue the person who assaulted you. If you have been a victim of sexual assault, or you want to learn more about how you can assist us with our cause, contact us to speak to one of our staff members.
Mission:
SAS works in San Juan and surrounding counties to empower victims, provide crisis services and create a community focused on prevention.
Vision:
Every Person Deserves a Life Free of Sexual Violence